365-Night Home Trial
Forever Warranty
Free Shipping & Returns
THE DIFFERENCE WITH NECTAR
MATTRESS
| | | Online Stores | High St. Stores |
| --- | --- | --- | --- |
| Real Memory Foam | 3cm | 0 or < 3cm | 0 or < 3cm |
| Cooling Cover | | Some | |
| Made In The UK | | Some | Some |
| No Harmful Chemicals | | Some | Some |
| Climate Neutral | | | |
BENEFITS
| | | Online Stores | High St. Stores |
| --- | --- | --- | --- |
| Home Trial** | 365 Days | 77-200 Days | |
| Warranty** | Forever | 10-15 Years | 10-15 Years |
| Nominated Day Delivery | | Few | |
| Removal & Recycling | | Few | |
*Price compares Nectar double mattress vs other leading brands double mattress with bundle savings and discounts applied. Correct as of 05/05/2021.
**Additional
terms and conditions
apply.
When Compared to Other Leading Online Brands, There's a Reason Popular Review Sites Chose Nectar
Buy Mattress
Slip into the bed of your dreams. Nectar believes that, when it comes to your sleep, you should never compromise. Guided by innovative sleep technology and experts truly passionate about sleeping right, every single night.
Nectar is designed with 3 layers of premium foam, a breathable base layer and an Adaptive cooling cover. It's our mission to deliver one simple promise: The best sleep of your life, guaranteed.
See How Nectar Stacks Up as the Best Memory Foam Mattress
STAY COOL
Nectar's Quilted cooling cover doesn't sweat it when compared to other brands that use cotton and polyester covers. Our smart design is more breathable, softer, and better at absorbing moisture than any premium cotton.
EXTRA THICK
A sumptuous, supportive, 10" thick Nectar mattress provides the perfect measurement of comfort and contouring made for the sleep you deserve.
CertiPUR® CERTIFIED FOAM
Nectar uses CertiPUR® Certified flexible foam which has no ozone depleters, mercury or lead compared to other memory foam brands that use harmful chemicals in their foams.
FOREVER WARRANTY™
It's our belief that your best sleep should last a lifetime. Nectar has the leading warranty in the industry - guaranteed to last Forever.
2X MEMORY FOAM
Nectar has two innovative layers of memory foam atop a 7 zone support base engineered to circulate air, distribute weight and contour using 4th generation foam technology.
DIRECT TO YOU
You can rest easy straight away with an easy delivery that considers you. Roll-compressed for ease (and care), your Nectar mattress is delivered to your door, ready to unwrap and enjoy, alleviating the need for those hard-to-manoeuvre boxes that other brands use to ship their mattresses.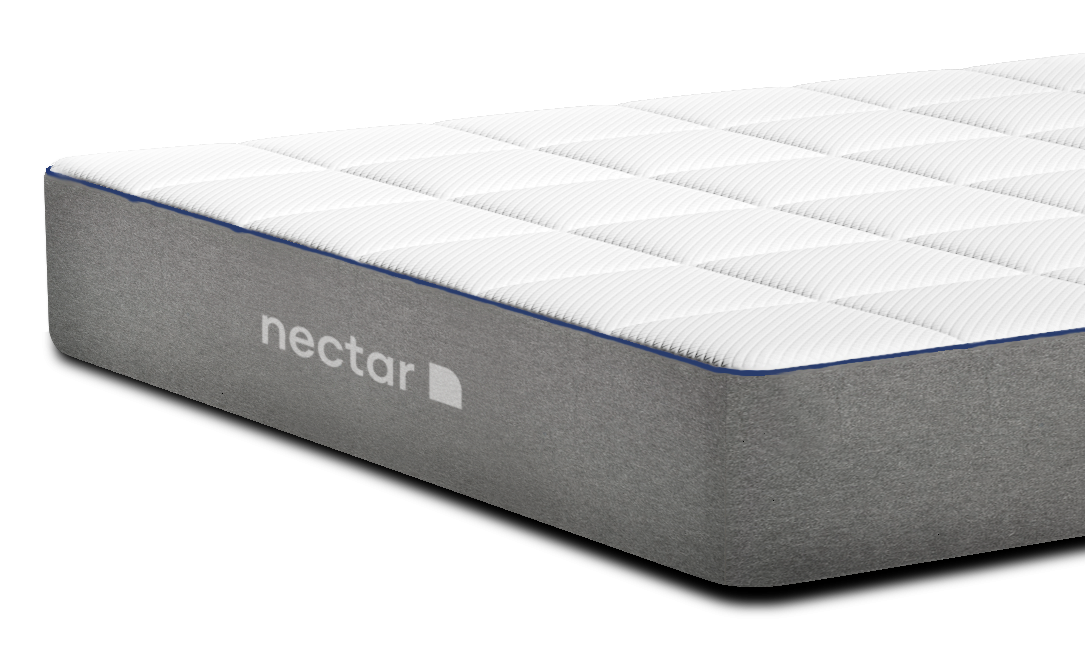 It's Like Sleeping On A Cloud
We've taken the recent advances in mattress and fabric technology and run with them. Having figured out the optimal levels of firmness, coolness, breathability, and comfort, we put them all into one mattress, making it the best mattress you've ever slept on. Period.
10 Inches of Sleep Perfection
Absolutely no other rolled and compressed mattress product, delivered right to your door, has the same high-quality, tech-savvy materials packed within 10" thickness and 3 layers of premium foam topped off with an Adaptive cooling cover comparable to Nectar. Shipped straight to your door, Nectar makes it easy to start enjoying the best sleep of your life without lifting a finger.
CERTIPUR® CERTIFIED FOAM
Our flexible foam is CertiPUR® Certified. That means no mercury or lead. Rest assured that you and your loved ones will sleep better with Nectar.
ADAPTIVE COOLING COVER
Nectar's Adaptive cooling cover is more breathable, softer, and better at absorbing moisture than any premium cotton used by other mattress companies. While other memory foam beds sleep hot, our Adaptive Cooling Cover ensures you'll sleep cool night after night, for all four seasons.
MEMORY FOAM
Two layers of Memory Foam help Nectar circulate air, distribute weight and contour to your body. The layers work together with the 7 Zone Support Layer to provide the perfection balance of soft and supportive rest.
Start Sleeping Right With Our Forever Warranty™
At Nectar, we've aligned all our efforts around one simple promise: The best sleep of your life, for life. We believe that the best products will last a lifetime. That's why we have Forever Warranty™ so you can rest assured that Nectar is the last mattress you will ever have to buy. At Nectar, our premium memory foams are built to last and won't compress or sag over time like other mattresses.
365 Night Trial to Test the Best Memory Foam Mattress Through All Four Seasons
What is the most recommended mattress? Nectar comes out on top as one of the most recommended mattresses by popular review sites, and one of the reasons is that Nectar offers an unheard of 365 day trial period, with free shipping and returns. We will even remove your old mattress for a small fee.
NO MORE TOSSING AND TURNING
One of the best things about Nectar is that it is firm enough to support you but soft enough so your body can fully relax. Wake up rested with Nectar!
NO MORE MOTION TRANSFER
With Nectar, your sleep is protected from any disturbances by restless partners, children, and pets. Our premium memory foams and considered design, including powerful edge support, means that the mattress absorbs movement throughout the night and you sleep soundly.
NO MORE SLEEPING HOT
The combination of an Adaptive cooling cover and clever layers of memory foam means that heat is diffused from the mattress. Breathable foams allow air flow through the mattress for an additional cooling system so you'll sleep cool night after night.
˜
WHAT MAKES THE NECTAR SO COMFORTABLE?
You spend a third of your life in bed. Nectar makes that time more comfortable, restful, and even a touch bouncier than other memory foam mattresses, which is kinda fun.
Quilted Cooling Cover
Custom designed to draw heat away from your body and circulate fresh air with every move you make.
Dynamic Support layer
This breathable foam layer enhances air flow, regulating your body temperature and provides excellent support with added bounce.
Pressure Relieving Memory Foam
An innovative memory foam that provides comfort and support where your body needs it most.
7 Zone Supported Base
Developed to ensure a perfect night's sleep with 7 different zones of support.
Positioning Base Material
Keeps your mattress in the correct place, so it doesn't move on your bed frame.
365 NIGHT TRIAL
Trying a mattress in a store for a few minutes can't help you determine if a mattress is right for the rest of your life. That's why you need to try it in the comfort of your own home. We believe you should sleep on a mattress all four seasons to decide if it's right for you. We give you 365 nights on Nectar.
Forever Warranty™
We stand by our product. That's why we guarantee that Nectar will be the most comfortable mattress for as long as you own and use Nectar. When compared to other mattress companies, our Forever Warranty™ is the strongest in the industry - it lasts Forever. We like to think of it like your sleep's happily ever after.
FREE SHIPPING AND RETURNS
Nectar offers free shipping and returns right to your door. If you're not 100% satisfied after your 365 night sleep trial, we'll give you a full refund and come pick up your bed. With free shipping and returns and a year long sleep trial, you have nothing to lose - and the best night's sleep of your life to gain.
FREQUENTLY ASKED QUESTIONS
Tell me more about the Nectar mattress
Nectar makes the most comfortable mattress available, and sells the Nectar directly to you cutting out middlemen and markups. You enjoy the best mattress at a much better price. Nectar is designed for every type of sleeper and arrives backed by our Full Comfort Guarantee and Forever Warranty, plus a full year sleep trial so you can make sure Nectar is right for you. Nectar arrives straight to your door. If you like, for a small fee, we can remove your old mattress. Thousands of Nectar customers and over 20 mattress review sites think Nectar is the most comfortable mattress you can purchase. And if you don't agree, we'll take Nectar back (see more here) and refund your full purchase.
What is the 365 night sleep trial?
Nectar provides you with a full year, 365 nights to enjoy Nectar and figure out if Nectar is right for you. If you decide for any reason that Nectar is not your ideal mattress, we'll remove the mattress from your home (terms apply) and refund your payment 100%. Our trial is 3 times longer than any other we have seen. Fewer than 3% of Nectar sleepers return their Nectar.
What setup do you recommend for the Nectar?
Nectar will be the most comfortable mattress you ever owned if setup properly. Most foundations, bases, including slatted or divans work as well as an adjustable frame. We do not recommend placing your mattress on the floor, plastic base, or home-made foundation.
When can I expect to receive my Nectar?
Nectar ships direct to your door. You can select the your ideal delivery date during the checkout process.
How does the Nectar feel?
After sleeping on Nectar the words customers use in their 30 day feedback surveys are "love" or "need." Nectar is contouring and supportive to help you get your best night's sleep.
What is the Forever Warranty?
Forever is a long, long time… and that's how long we guarantee the construction, materials, quality and durability of Nectar for the original purchaser. If you own a Nectar and sleep on a Nectar we believe Nectar should be the only mattress you ever need. We back up Nectar's quality in absolute terms, with no wishy washy legal speak, Nectar will last longer than you do if you treat Nectar right.
How do I return my Nectar?
It's rare, but when it happens, we make it easy. We work with you to arrange pickup and refund your money once we've received your mattress. Just give us a call or send us an email, we will make the process painless and fast (terms apply).